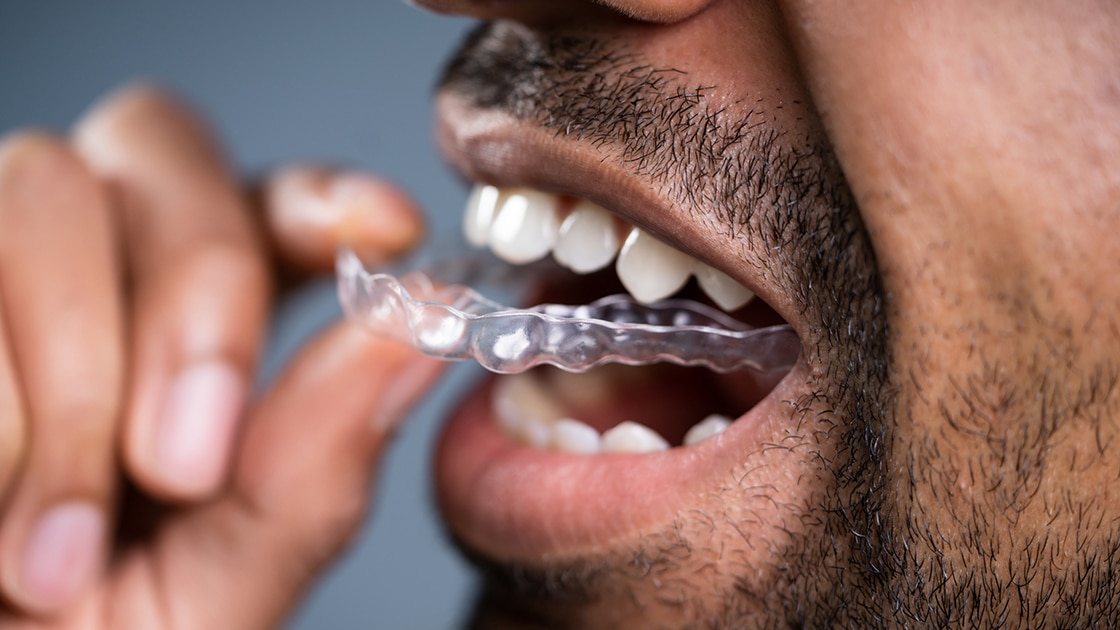 Greater Essex Dental provides clear aligners treatment in Merrimac, MA.
For more information and to set up a consultation, call our office at 978-346-4610.

What Are Clear Aligners?
Clear aligners are an advanced orthodontic treatment that allows patients to straighten their teeth discreetly without the problems associated with traditional braces. Our practice uses ClearCorrect aligners, a proven system that provides excellent results.
The process begins with a digital scan of the patient's mouth. This scan helps the dentist design a series of clear plastic aligners that move teeth gently and gradually into optimal positions. 
ClearCorrect aligners are stronger and more comfortable than competitors' products. The unique slim design makes the aligners comfortable. The proprietary multi-layer ClearQuartz material resists staining and wear and tear.
Benefits of Clear Aligners
No Foods to Avoid
With clear aligners, you don't have to cut certain foods out of your diet. Since you remove your aligners whenever you eat, you can enjoy your typical variety of foods.
Easy Care
Taking the aligners out to clean them is much simpler than caring for braces. You can also keep your teeth healthier with no increased chance of tooth decay or gum disease.
Better Oral Health
Clear aligners make it much easier to keep your teeth clean than braces. Since you remove them whenever you eat or brush your teeth, you do not have to deal with cleaning under and around wires and brackets.
Discreet
With ClearCorrect, no one has to know that you are straightening your teeth. You will not have to worry about your braces drawing unwanted attention.
Faster Than Braces
ClearCorrect aligners work more quickly than braces. Aligners apply gentle pressure to all teeth at the same time rather than individual teeth.
Are You a Good Candidate for Clear Aligners?
Clear aligners are best for patients with minimal dental bite issues. Traditional braces may work better if you have extensive bite problems or jaw issues. They are excellent for people who want to close spaces and realign teeth that have shifted over time.
Why Choose Greater Essex Dental?
Our practice provides highly individualized care in a warm, friendly environment. We strive to make all of our patients feel welcome. We offer a wide variety of dental services using high-tech materials and equipment.
Frequently Asked Questions About Clear Aligners
How long does it take to straighten teeth with clear aligners?

While individual treatment times may vary, clear aligners are generally faster than braces. While traditional braces take between 18 months and three years to align teeth, clear aligners may take as little as 6-12 months.
How do I care for my aligners?
Caring for your Clear Correct aligners is a simple process. Rinse them whenever you take them out. Soak them in the cleaning solution and rinse them well. Avoid using toothpaste since this could scratch the plastic. Brush and floss your teeth before putting the aligners back in. Please keep them in their case when you are not wearing them.
How long should I wear the aligners each day?
You should wear your aligners for 22 hours each day. The treatment may reverse if you don't wear them for the prescribed time. Take them out only to eat, brush, and floss.
Call Greater Essex Dental
Clear aligners can bring you a beautiful smile without the hassle of traditional braces. Call Greater Essex Dental at 978-346-4610 to make an appointment for a consultation.