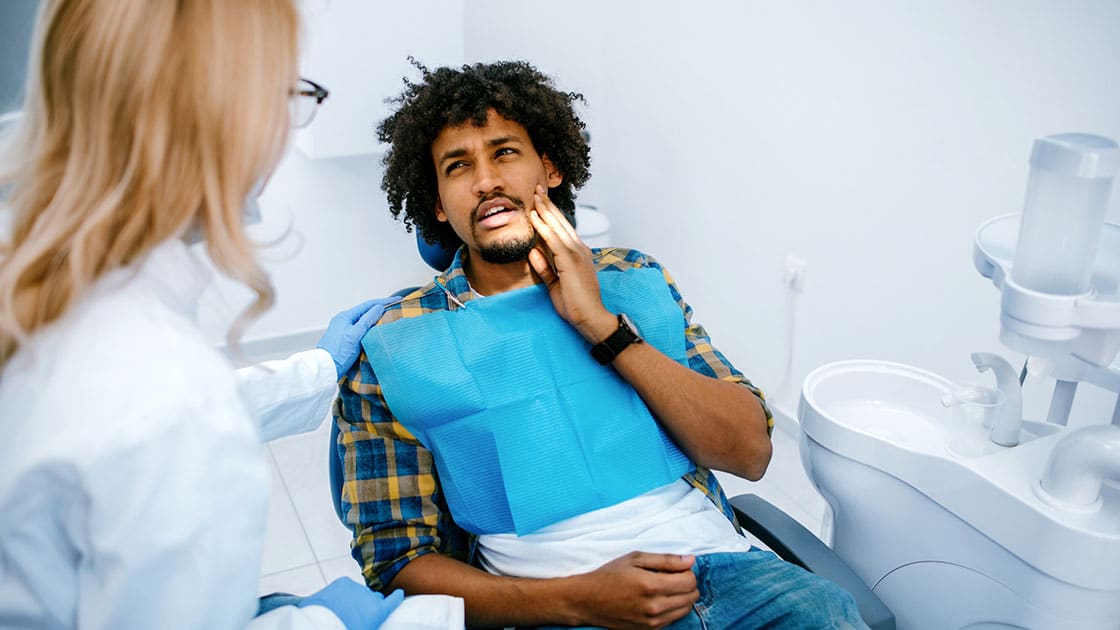 Greater Essex Dental offers emergency dentistry services in Merrimac, MA.
To make a prompt appointment, call 978-346-4610.
What Is Emergency Dentistry?
Sometimes, dental work can't wait for a scheduled appointment. Dental emergencies can be painful and require immediate treatment to prevent further damage. Dental emergencies include, but are not limited to:
Cracked, chipped, or broken teeth

Loss of a filling

Toothache

Knocked-out or dislodged teeth

Dental trauma from an injury or accident
Procedures Offered
Root canals relieve toothache and preserve the natural tooth from extraction. If a tooth breaks, the dentist can often restore it with a root canal and a crown. The dentist can repair a chipped tooth with resin.
Chipped and Cracked Teeth
You may not believe that a chipped or cracked tooth constitutes a dental emergency, but these problems can worsen quickly, causing toothaches and further damage. It is best to have them addressed right away.
Dental Trauma
If you have suffered a blow to the face, as in a sports injury or car accident, you will want to visit the dentist to ensure your teeth are safe. Seek emergency medical attention first if needed.
Why Choose Greater Essex Dental?
Our office can handle dental emergencies promptly. We will expertly treat your problem and ensure your continuing oral health. We maintain a friendly, warm office environment where advanced technology and compassion go hand in hand.
Frequently Asked Questions About Emergency Dentistry
When is it appropriate to make an emergency dental appointment?
You should feel free to make an emergency appointment when you are in pain or when a tooth or restoration has broken. However, there are times when you should go to the emergency room instead of the dentist, such as when you have severe bleeding.
What should I do if I knock out a tooth?

See your dentist as soon as possible. If you knock out a tooth, do not touch the root. Gently rinse the crown with water. The best thing to do is to put it back in the socket and bite down on a piece of gauze. If you can't do this, put it in a cup of milk or saliva. The longer the tooth stays out of the socket, the less chance it will be able to bond again successfully with the jaw. The tooth can be reseated in the socket and splinted to keep it in place.
What should I do if I break a tooth?
Rinse the area gently with lukewarm water. Apply a cold compress to reduce swelling. If you have a broken part of the tooth, put it in a cup of milk and bring it to the dentist's office.
Call Greater Essex Dental
When you have a dental emergency, you won't want to waste time searching for an office that can see you immediately. Call Greater Essex Dental at 978-346-4610 to have your problem assessed and determine whether you need emergency care.